How to Get a Job at McKinsey: Interview Process & Questions
How do you get a job at McKinsey, one of the most prestigious management consulting firms in the world? In this article, you'll learn about the McKinsey interview process and the McKinsey interview questions you'll likely see.
McKinsey is known as the "gold standard" in consulting. They work with the biggest name clients and charge the highest billing rates. Due to McKinsey's brand name and prestige, McKinsey's consultants have access to the most attractive and lucrative exit opportunities.
Because of everything that McKinsey has to offer, McKinsey attracts the smartest people with the most impressive backgrounds. This makes McKinsey one of the most competitive consulting firms to get into. Less than 1% of people that apply to McKinsey will receive a job offer.
What do you need to do to put yourself in the 1% of applicants that land a McKinsey job offer?
This article will cover strategies and tips to give yourself the best chance of landing a McKinsey job offer.
McKinsey Interview Process
The timeline and dates in the McKinsey interview process may slightly differ depending on whether you are applying as an undergraduate student, MBA student, advanced degree student, or working professional.
However, the overall components in the process are roughly the same.
The McKinsey interview process has five major steps.
We'll go through each step in the interview process so you know exactly what to expect.
Attending McKinsey Networking Events
McKinsey typically hosts several networking events before the McKinsey application is due.
There are two goals you should focus on in these networking events:
1. Learn more about McKinsey: You'll be better able to answer interview questions that ask why you are interested in consulting and why you want to work for McKinsey if you get a chance to hear McKinsey consultants talk about their work experience.
2. Make a positive and memorable impression: By chatting with McKinsey representatives that attend these networking events, you will get the opportunity to get your name in front of recruiters and potential resume reviewers. If you connect or bond with someone from McKinsey, they may try to push strongly for you to get an interview.
Attending these events is not required. If you have a strong resume and background, you can still receive a McKinsey interview even if you did not attend any events.
If you attend a top-tier undergraduate or MBA school, these networking events are less important. McKinsey has relationships with these schools and consistently hires students from these schools every year for internship and full-time opportunities. Your resume will get reviewed regardless of whether you attend a networking event or not.
If you do not attend a top-tier undergraduate or MBA school, these networking events will be much more important. Since your school is not a school that McKinsey targets, McKinsey recruiters spend much less time looking at applications from your school. Networking is crucial to giving your resume an opportunity to be reviewed.
Similarly, if you are applying to McKinsey as a working professional, networking events are much more important. Although McKinsey hires people from nontraditional backgrounds, you will need to do the work needed to get your name and resume in front of recruiters through networking or referrals.
There are three different types of networking events: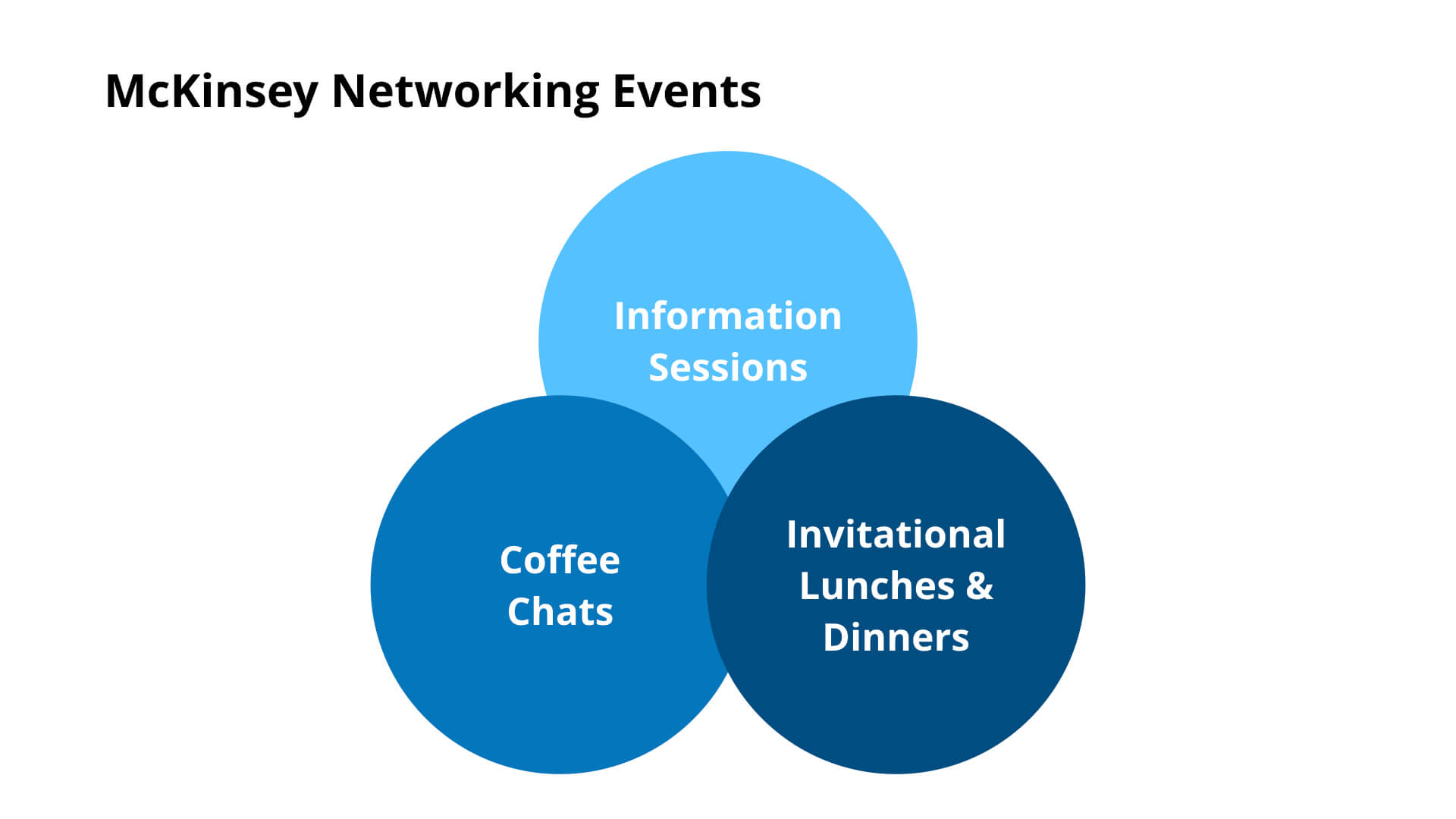 You do not need to attend every event, but some events will be more effective for networking than others.
McKinsey Information sessions
If you attend a top-tier undergraduate or MBA school, McKinsey typically hosts one large information session in which they bring 20 – 30 consultants to give a presentation. Afterwards, there will be time to mingle and ask these consultants questions.
You can find the dates of the information session through McKinsey's website, your school's career services center, or through your school's consulting club.
If you are applying as a working professional, McKinsey may host an information session through an online webinar or at a hotel in major cities.
Given that hundreds of people attend these information sessions, finding opportunities to network with McKinsey consultants at this event can be difficult.
What typically happens during these events is that 10 – 15 people will swarm around each McKinsey consultant at the end of the presentation to chat and ask questions.
The best strategy for networking during information sessions is to show up early.
McKinsey recruiters and consultants will already be there to greet you. Since much fewer people tend to show up to these events early, there will be fewer people around. This gives you a better opportunity to chat and ask questions with a McKinsey representative one-on-one.
McKinsey Coffee chats
If you attend a top-tier undergraduate or MBA school, McKinsey typically hosts coffee chats to give students an opportunity to ask individual, specific questions. These coffee chats are usually one-on-one or done in small groups.
These coffee chats are more informational than evaluative. During these chats, you want to ask intelligent questions that have answers that can't be easily found online.
Asking questions that have answers that can be found on Google shows a lack of preparation and may leave a negative impression.
If you are applying to McKinsey as a working professional, you'll need to set up coffee chats yourself. Use your LinkedIn network to identify former colleagues or school alumni that would be open to chatting with you.
You can use this opportunity to learn more about McKinsey and to ask to be put in contact with a McKinsey recruiter.
McKinsey Invitational Lunches and Dinners
If you attend a top-tier undergraduate or MBA school, McKinsey will also invite high-potential candidates to join them for a nice lunch or dinner.
McKinsey identifies high potential candidates by looking through the resume book or by asking current employees for names of high potential individuals.
Receiving an invite to these events is a great sign that you have a high chance of receiving an interview.
However, just because you do not receive an invite does not mean that you will not get an interview. Many people that don't receive invites for these exclusive events still receive McKinsey interviews and offers.
If you are applying as a working professional, you likely won't have the opportunity to attend a McKinsey lunch or dinner event.
Submitting your McKinsey Application
After all of the networking events are over, McKinsey will have a deadline for submitting your application, which typically consists of four components.
McKinsey Application Questions
The McKinsey application will ask for several basic pieces of information, such as your name, demographics, and background. The application will also ask for what languages you speak and what your top office choices are.
McKinsey will ask for your top three office preferences. Although they ask for three, you will usually only be considered for your top office choice. This will most likely be the office that you will be interviewing for.
When listing your top three office choices, make sure that you meet the language requirements to work at these offices.
McKinsey Resume
Read this comprehensive consulting resume guide to understand what McKinsey resume reviewers look for when screening resumes and how to optimize your resume to give yourself the best chance of receiving an interview.
In short, keep your resume to one page and quantify the impact of your accomplishments in your work experiences and extracurricular activities.
McKinsey likes to see:


High grades (if you are an undergraduate)
Prestigious schools that you've attended
Brand name companies that you've worked for
Significant impact in your work experiences
Leadership roles at work and in your extracurricular activities
McKinsey Cover Letter
The McKinsey cover letter is usually optional. During information sessions, McKinsey will often tell candidates that they do not need to submit a cover letter because they will not read it.
However, you should always confirm with the recruiter whether or not you will need a cover letter.
Your cover letter should be concise and straight to the point. Introduce yourself, explain why you are interested in consulting and McKinsey, and then explain why you would be a great fit for the role and company.
To avoid having a generic cover letter, include specific reasons why you are interested in McKinsey. Mention the McKinsey representatives that you have spoken to and what aspects of McKinsey you find most attractive.
Your resume is far more important in determining whether or not you will get an interview, so make sure to focus the majority of your time on optimizing your resume.
McKinsey Referrals
Referrals are not part of the official McKinsey application process, but are a quick way to make your application stand out from the crowd.
If you have a friend or colleague that works or used to work at McKinsey, ask if they would be comfortable giving you a referral. If you really hit it off with someone you met during the McKinsey networking events, you can also ask them.
Getting a McKinsey referral basically means that someone at McKinsey will send your name and resume to the McKinsey recruiter that is in charge of the resume reviews. Your application will get a closer look and be viewed a bit more favorably.
This is not required to get a McKinsey interview. Many people get McKinsey interviews without getting any referrals.
Getting a McKinsey referral also does not guarantee that you will receive an interview. It only guarantees that your application will be reviewed more closely.
Passing your First Round McKinsey Interviews
A few weeks after the application deadline, you will receive an invitation from McKinsey for the first of two rounds of interviews.
If you are applying as a student, interviews will take place on your school's campus. If you are applying as a working professional, interviews will take place at the McKinsey office that you are applying for.
Your McKinsey first round interview consists of two separate 40- to 60-minute interviews. The majority of the time will be focused on case interviews, but you will also get a few other types of questions.
There are four types of McKinsey interview questions.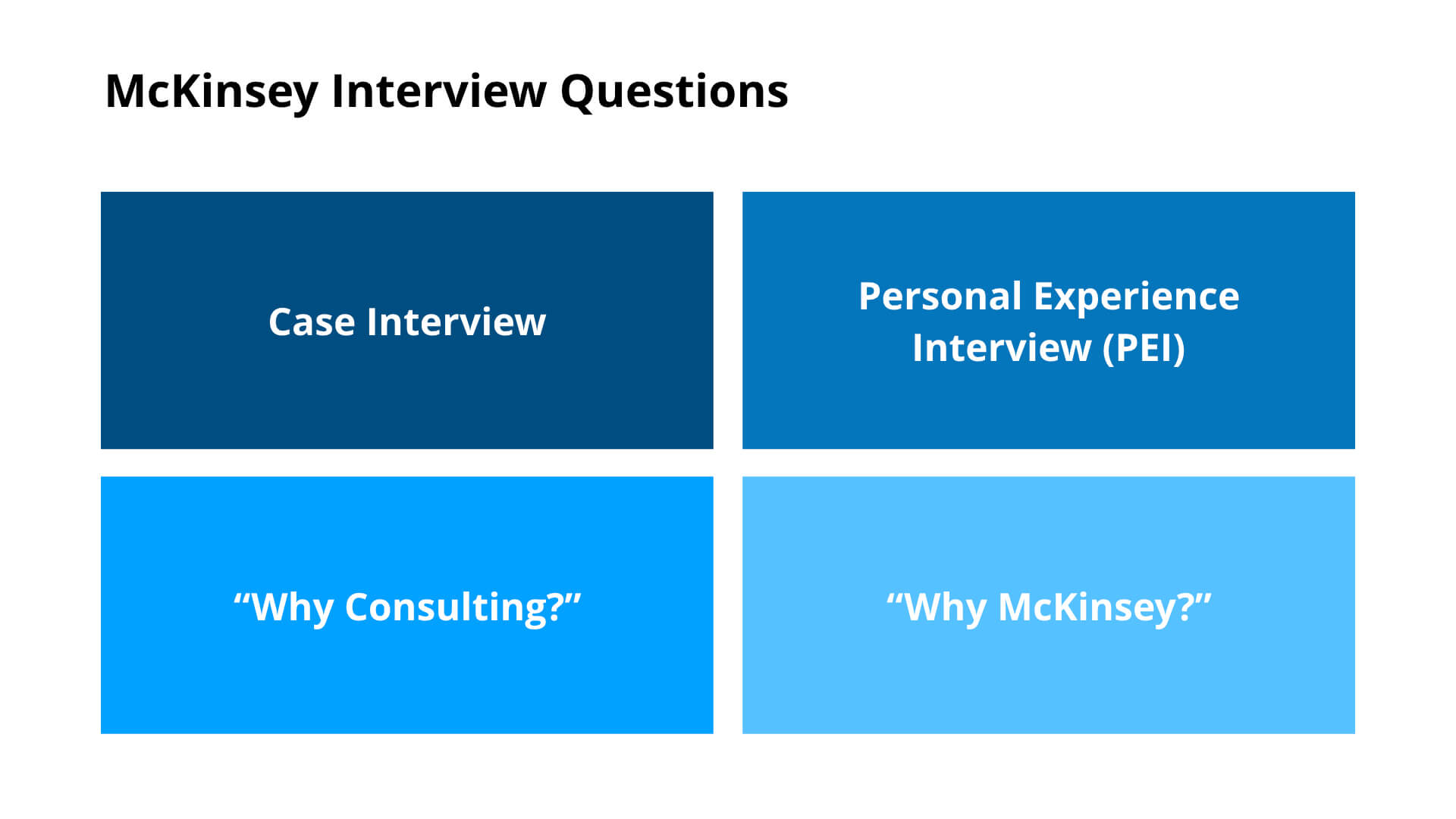 We'll go through each of these types of questions and give you strategies and tips on how to best answer them.
McKinsey case interview
Case interviews are a special type of interview question that consulting firms, such as McKinsey, use to assess a candidate's potential to be a great consultant.
A case interview or "case" is a 30- to 60-minute exercise in which you and the interviewer work together to develop a recommendation to answer or solve a business problem. These business problems can be anything that real companies face.
Here are four examples of McKinsey cases from their website:


Read this comprehensive case interview guide to learn exactly how to solve case interviews.
In short, the case interview will begin with the interviewer reading you the case background information. You'll have the opportunity to ask clarifying questions to ensure that you understand the business situation and the objective of the case.
You'll then create a framework, which is a tool that helps you structure and break down complex problems into simpler, smaller components.
McKinsey case interviews are interviewer-led, which means that the interviewer will be steering the direction of the case. They'll ask you several questions including quantitative questions that require you to make calculations and qualitative questions that require you to use your own business judgment.
At the end of the McKinsey case interview, the interviewer will ask you for a recommendation to solve the business problem.
You can watch the video below for an example of how to solve a McKinsey case interview.
McKinsey Personal Experience Interview (PEI)
McKinsey also conducts a Personal Experience Interview, or PEI for short. This takes the place of traditional behavioral questions that companies ask in interviews.
The interviewer will ask you to give an example or story of a time when you displayed a particular quality, such as leadership, problem solving, personal impact, and resilience.
Examples of potential questions include:
 
Tell me about a time when you went above and beyond what was required
Give me an example of a time when you had to persuade someone
Describe a situation in which you handled conflict while working on a team
Give me an example of a time when you tried to accomplish something but failed
Describe a difficult or complicated problem that you faced
The interviewer will then ask follow-up questions to probe deeper into your example or story. They will want to know exactly what you did, how you thought about the situation, why you did the things that you did, and what you learned from the situation.
The entire McKinsey Personal Experience Interview takes about 10 to 15 minutes to complete.
To prepare for the McKinsey Personal Experience Interview, you'll want to develop a list of five different stories or examples that cover leadership, problem solving, personal impact, and resilience.
You should focus on selecting stories that are the most impressive and most impactful.
When given the PEI, select the story that is most relevant. You'll want to tell your story or give your example using the STAR method.
Situation: Provide a brief overview of the situation and any context that is needed to understand the story better. Keep this section as concise as possible to make more room for the Action and Result sections, which is where you want to spend most of your time.
Task: Describe what you were asked or required to deliver or achieve. Again, try to keep this section concise to spend more time on the Action and Results section.
Action: Explain what steps you took to handle the task or to meet the goal or objective. Make sure that the actions center around what you specifically did. Do not focus too much on speaking to what your team did because it takes away from your accomplishment.
Result: Describe the outcome that your actions had, quantifying the impact and effect you had on the organization. Additionally, you can describe your key takeaways from this experience and how it impacted or influenced you as a person.
This strategy ensures that you give your answer in a clear and structured way. It also ensures that you spend most of the time talking about the specific actions that you took and the impact that you had.
"Why Consulting?" question
You'll likely be asked why you are interested in consulting at some point during your interview. Read this comprehensive "why consulting?" article to learn exactly how to answer this question.
In short, there are many reasons you can give for why you are interested in consulting:
 
You want to make a significant impact by working with billion-dollar companies on their most challenging business problems
You enjoy solving business problems across multiple different industries and functions
You see consulting as the quickest way to develop the skills to be a business executive
You enjoy working closely with teams on tough, challenging business problems
You value the mentorship and personal development that consulting provides
You find fulfillment in working with and servicing clients
You are excited to travel around the world for work
Select three compelling reasons why you are interested in consulting.
You can use the following simple, but effective structure while answering the "why consulting" question:
 
State that consulting is your top career choice
Provide three reasons to support this
Reiterate that consulting best fits your professional needs and goals
"Why McKinsey?" question
In addition to being asked why you are interested in consulting, one of your interviewers may also ask why you are interested in working at McKinsey.
There are many different reasons you can give:


You've really loved the people that you've met from McKinsey and would enjoy working with them
McKinsey has an empowering work culture where you would grow and thrive
McKinsey has deep expertise in a particular industry or function that you are passionate about
McKinsey has a strong presence in a particular country, which you are interested in working in later in your career
McKinsey places a heavy investment in mentorship and personal development, which you value tremendously
McKinsey has a global staffing model and you appreciate the opportunity to work in different countries
Several of your mentors that you respect and look up to have worked at McKinsey and they have highly recommended working there
Again, try to structure your answer in a clear way:


State that McKinsey is your top choice consulting firm
Provide three reasons to support this
Reiterate that McKinsey best fits your professional needs and goals
Passing your Final Round McKinsey Interviews
Your McKinsey final round interview will typically consist of two to three separate 40- to 60-minute interviews. You'll see the same four types of McKinsey interview questions that you saw in your first round interviews.


McKinsey Personal Experience Interview (PEI)
"Why Consulting?" question
There are three important distinctions between your first round McKinsey interview and your final round McKinsey interview.
One, your interviewers will likely be more senior people at McKinsey. This means that the case interviews you receive may be a bit less structured and more qualitative in nature. The case interview may feel more like a discussion where you and the interviewer are discussing your opinions and ideas on a business problem.
Two, there will be more of an emphasis on assessing your fit with the firm. The first round interview is primarily used as a screener to determine whether or not you can solve case interviews effectively and whether or not you have the potential to be a great consultant.
Final round interviews will also continue to assess this, but interviewers will also be determining whether or not you would be a great fit with the office. Are you coachable and easy to work with? Are you collaborative? These are a few of the qualities that interviewers want to see.
Three, your interviewers may read the notes that your interviewers wrote during your McKinsey first round interview. If there was a particular area of the case interview that you struggled with, interviewers may want to test you again on it to make sure that it is not a significant weakness.
Besides these three distinctions, you should use the same strategies that you used in your McKinsey first round interview for your McKinsey final round interview.
Receiving your McKinsey Job Offer
After finishing your final round interview, all you have left to do is to wait for your McKinsey offer. McKinsey typically calls candidates to tell them that they are being extended a job offer before emailing them.
Some candidates receive a phone call with good news on the same day of their final round interview. Most candidates receive their call within a few days.
If you have not heard back from McKinsey after a few days, that does not necessarily mean that you did not receive a McKinsey offer. Sometimes, you may be on the borderline of receiving an offer and McKinsey would like to finish interviewing other people before deciding whether or not to give you an offer.
Be patient on waiting for McKinsey to get back to you. If you have not heard back in a week, you can send a follow-up email with the recruiter to ask if there are any updates.
When you finally get your call and offer letter, all that is left to do is sign to secure your job at McKinsey!
Land your Dream Consulting Job
If you found this article helpful, you'll love our comprehensive case interview course. The material in the course has helped 6,000+ students across 13+ countries land offers at top-tier consulting firms such as McKinsey, BCG, and Bain.